Suicide Prevention Resources for Schools
The Schools Committee makes recommendations on programs and processes for improving suicide prevention, intervention, and postvention in Oregon schools and colleges.
Part of the work this Committee is working on is SB 52, also known as Adi's Act. More information about Adi's Act can be found here. To help schools implement this in their districts, the Alliance created a document that shows some resources created for schools. This, as well as other school resources, can be found below.
For technical assistance and support with writing and implementing your Adi's Act suicide prevention, intervention, and postvention plan, contact the School Suicide Prevention and Wellness Program (SSPW) at Lines for Life. The SSPW Program is a team of four regional School Suicide Prevention and Wellness Coordinators and one program manager. Each Coordinator is assigned a group of counties to provide local, culturally-responsive, and trauma-informed suicide prevention help and assistance.
NW Oregon/Willamette Valley Region: Isabella Acevedo Isabellaa@linesforlife.org
SW Oregon Region: Lucina LucinaA@linesforlife.org
Eastern Oregon Region: Boston Colton BostonC@linesforlife.org
Central Oregon Region: Ashley Meilahn AshleyM@linesforlife.org
Program Manager: Claire Kille ClaireK@linesforlife.org
To sign up for Lines for Life's monthly School Suicide Prevention and Wellness Newsletter, click here!
Reports on different suicide prevention efforts and news can also be found below.
Suicide Prevention in Schools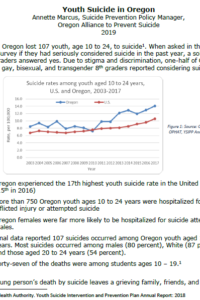 Annette Marcus, AOCMHP Suicide Prevention Policy Manager, wrote an article in 2019 that discusses youth suicide in Oregon. This article discusses the following points:
Youth Suicide data in Oregon from 2019
Data collected from schools on how they felt about their school's suicide prevention practices
How The Alliance and Oregon Legislature worked to provide hope, help, and healing to schools and respond to their needs around suicide prevention
As Alliance staff are made aware of reports that are published around suicide prevention efforts in schools across Oregon, we will share them on this page.
Oregon Safe Schools & Communities Coalition published a report in 2020 that analyzed results from the 2019 Oregon Healthy Teens (OHT) survey in relation to results from the US Center for Disease Control's (CDC) 2017 Youth Risk Behavior Surveillance System (YRBS) and the GLSEN's 2017 National School Climate Survey. The goal of the annual OSSCC report is to help Oregon educators, advocates and community leaders identify school safety, risks, and resiliency factors for LGBT+ youth.