Youth and Young Adult Stories
Stories of Hope, Help, and Healing
Our goal is for Youth and Young Adults to share their story in connection to suicide whether the experience is as a loss survivor, as someone living with suicidal ideation, supporting someone with suicidal ideation, as an attempt survivor, or through a different connection. Your story matters and levels of "bad enough" or "good enough" don't exist. Your story is your story and we want to provide a space for it to be shared in a meaningful and safe manner.
A partnership between Healthy Transitions and The Oregon Alliance to Prevent Suicide to share Youth and Young Adult stories of Hope, Help, and Healing during Suicide Prevention Awareness Month 2020.
Interested in submitting a piece? Contact Elliott Hinkle at ehinkle@pdx.edu.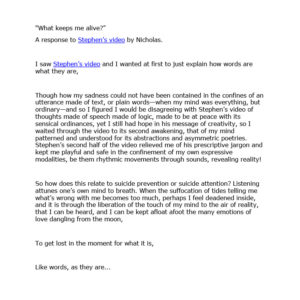 September Suicide Prevention Awareness Month for 2020 may have ended but there is still time for you to share your story. Please reach out to Either Elliott Hinkle at ehinkle@pdx.edu or Jenn Fraga at jfraga@aocmhp.org to learn how or if you want to get connected to Youth and Young Adult Voice work.